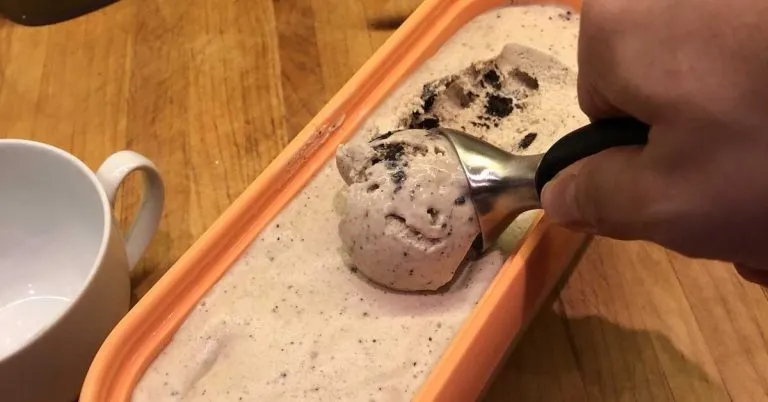 I make this recipe a lot. I love bananas so naturally I'd want to fuse a traditional vanilla-based ice cream with bananas. But early on, I found out it wasn't that easy.
Just shoving bananas into the mix created a sloppy mess of brown mush. I had the same struggle with banana cream pie, which rendered the same clumsy, wet results.
The secret is infusion, plus a few other important techniques that I've learned and will share here with you.
The Ingredients
2 very ripe bananas, evenly dotted with spots
2 tbsp butter
2 cups heavy cream
1 cup half and half
2/3 cup granulated sugar
2 vanilla beans, split lengthwise and scraped, seeds reserved. Vanilla bean paste will also work fine, I wouldn't recommend using vanilla extract.
6 large egg yolks
8 cookies and cream (Oreos)
Infuse the Cream
It's surprisingly easy to marry the banana flavor with the cream.
Slice the bananas into 1″ pieces.
Heat the butter in a medium saucepan until frothy, do not burn.
Add the bananas and cook on medium high heat until softened, about 4 minutes.
Add the heavy cream and half and half to the bananas. Bring mixture to an "almost-boil".
Remove from the heat, cover the pan and let steep for at least one hour.
Prepare the Ice Bath
This is an important step that I used to neglect. When the cooked cream mixture is ready to chill, it's important that plastic wrap is not placed over the hot cream. Steam will form and the water will remain and surface in the ice cream as ice crystals. Not cool.
Prepare an ice water bath by filling a large bowl halfway with ice and water; set aside.
Prepare the Ice Cream Base
Pour the banana mixture through a sieve, squeezing out as much liquid as possible into a bowl. Discard the bananas.
Whisk the egg yolks in a medium bowl until smooth.
In a saucepan, combine the sugar, infused cream mixture and vanilla beans and bring to a simmer, dissolving the sugar.
Remove cream mixture from heat and slowly pour about 1 cup into the egg yolks, whisking constantly until smooth. Pour cream-egg mixture back into the pan and cook over medium heat, stirring constantly, until custard coats the spoon, about 2 minutes, approx. 180°F.
Remove custard from heat and strain through a fine-mesh strainer into a third large heatproof bowl to remove any lumps, scraping as much vanilla bean through the strainer as possible. Remove vanilla bean pods from the strainer.
Place ice cream base over the ice bath to cool to room temperature, about 10 to 15 minutes. Stir occasionally.
Transfer to a large liquid measure (this will make pouring it later a breeze).
Cover the surface with plastic wrap* and place in the refrigerator to chill completely, at least 4 hours or overnight. You really need to do this.
*  Shout out to my new favorite kitchen gadget I never thought I'd need until now, and I can't live without it. Cutting plastic wrap has never been so much fun!
Churn the Ice Cream
Put the empty ice cream container in the freezer. I've used glass loaf pans which seem to work well, or this cool Tovolo Ice Cream Tub
Place the Oreos in a small ziplock. Smash them about 4 or 5 times with a meat tenderizer, rolling pin, or  whatever. Just don't over-smash, we want shards and chunks not powdery crumbs.
Once the ice cream base is chilled, freeze in an ice cream maker according to the manufacturer's instructions. We own the Breville BCI600XL which is a dream come true as far as ice cream makers is concerned. If you have somewhere to store it and make as much ice cream as we do, it's a must.
About 2 or 3 minutes before it's done, add the Oreo mix-in's.
Pour ice cream into the pre-frozen container and freeze for at least 6 hours.
Enjoy!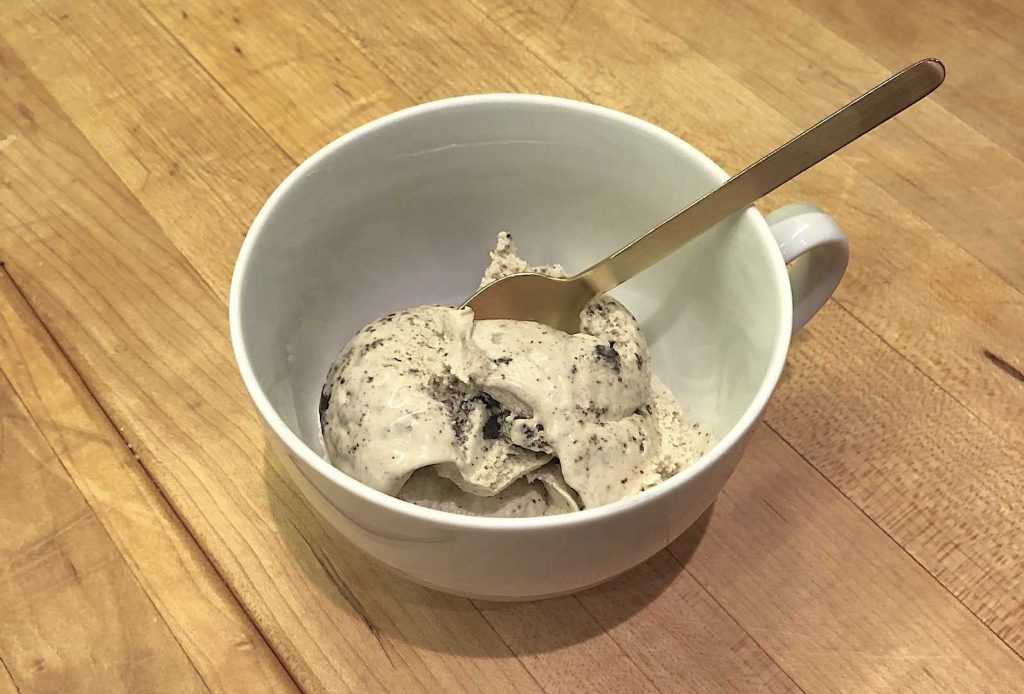 Like what you're reading? Stay in touch with monthly (or so) e-mails.