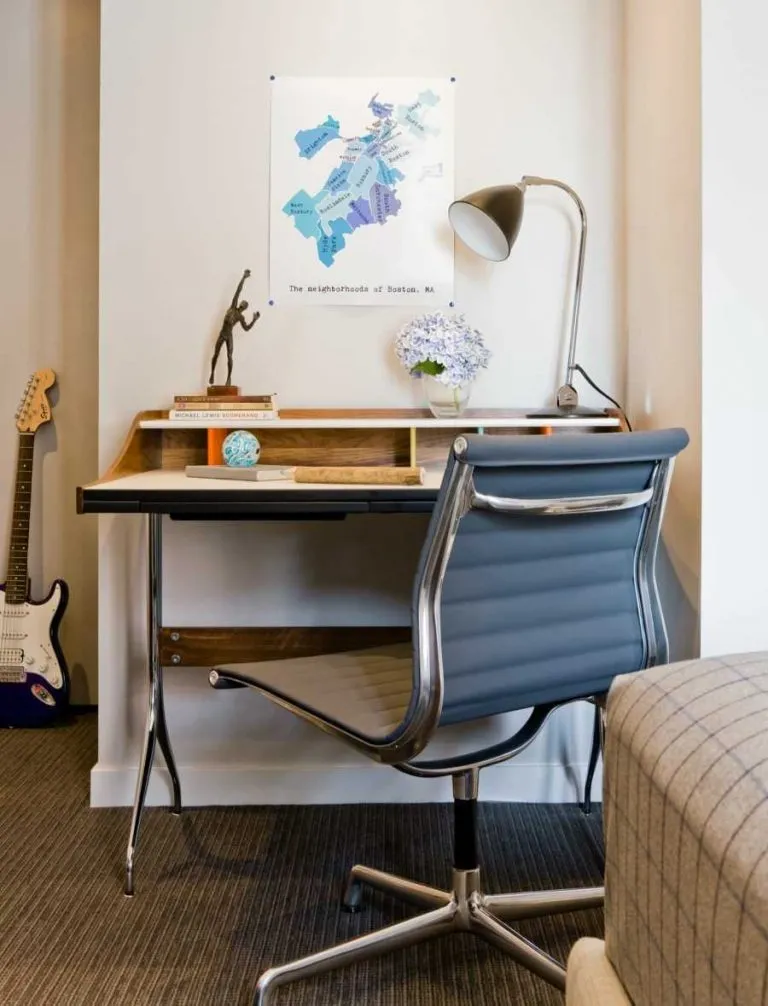 Clients that have children going off to college or boarding school often reach out to us about decorating their dorm rooms, and we love working with the different generations in families. While some clients have children who want our help putting together their dorm rooms, others have children who only want tips on making their rooms an expression of themselves. This dorm room decorating post is for boarding school and college students.
Dorm rooms are delivered to students with the basics – bed, desk, clothing storage. But that doesn't mean a dorm room is comfortable or exactly what you need for your life at school. Decorating can solve this, transforming your dorm room into a place from which you can thrive. It should be a truly relaxing space, where you can also get work done as well as hang out with your friends.
Be creative – and not just with the stuff in your room. If you don't like your dorm room layout – or your roommates – keep your eyes and ears open. My freshman year I went from having three roommates to only having one. I heard my friend's roommate dropped out, and I offered to move in. It was a better layout too – we each had our own bedroom and shared a living room.
And one lucky summer I worked on campus while taking classes. So before the big move in, I picked the best furniture from the other dorm rooms for mine. I also made use of more textiles! Tapestries hung on the walls and over the standard issue sofa and chairs, transforming my dorm into something more livable and expressive. I guess you could say this was my first design project. 🙂
Tips for Dorm Room Zhuzhing
Practical matters
You're in New England. You need a place to put your mucky boots. A good floor mat and a boot tray by your doorway helps keep your floor clean.
A comfy mattress cover is not a splurge. You need your beauty rest and your back will thank you too.
Your things are easier to keep track of if they all have a cohesive look. Choose a color palette or vibe and stick to it — especially for your stuff that leaves your dorm room, in particular, like sheets, towels, robe, shower caddy, flip-flops, laundry basket.
Put your monogram on bed linens, towels and your robe. No confusion on whose stuff is whose.
Get creative with "furniture"
Turn your bed into a "sofa" by pushing it sideways against the wall and adding throw pillows for back support.
A rug by your bed softens things up — it's sound dampening and another place to hang out.
Get a trunk to store your stuff – Use it as a coffee table, ottoman or extra seat when need be.
Add some ambience
Bring something from home – Photos in frames, pictures, string lights, a fun desk lamp, a full length mirror.
Make a pin board – Find a fabric you love and cover a piece of Homasote, which you can get at a builders' supply store, like Lowe's. You can use a simple staple gun to attach the fabric.
Have at least one house plant. Having something green around helps cheer things up during a New England winter.
Tapestries are multipurpose – Hang it on the wall behind your bed to create a "headboard" look, throw it over dorm furniture to keep your color scheme in tact.
Give your windows some treatment. Curtains that vibe with your tricked-out room. Blackout shades so you can nap whenever (sometimes you need to sleep during the day – especially after pulling all-nighters!).
Have your own personal dorm room, so you don't have to worry about clashing with a roommate's stuff or having to match it.
Like what you're reading? Stay in touch with monthly (or so) e-mails.