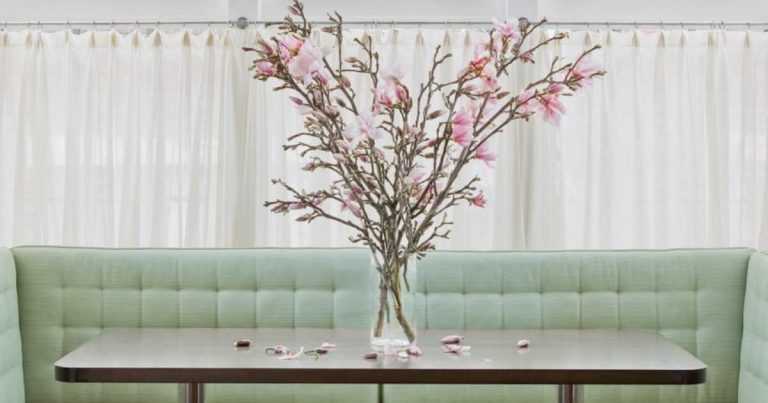 This picture has become one of our most popular photos to date. It's often featured in many blog entries and added to over 24,000 ideabooks on Houzz.
It's also one of the simplest, which is probably why it attracts so much attention.
Before its renovation, the room stood alone and adjacent to the decades-old kitchen. It had no cohesive purpose, so our client used it to store toys and remained a play area for their daughter. Years later, I love to glance back at the "before" pictures, realizing the potential and seeing it transform.
Before and After:
The dimensions of this side room were in our favor and posed a tremendous opportunity to tuck away a cozy seating area. My idea to transform it into a breakfast nook came to life, now a fully-functional use of space.
The Nook, piece by piece
Let's take a  look the elements.
The magnolia blossoms used during the photo shoot were luck on our part, as they'd just bloomed that week. As anyone who knows Boston in springtime, the trees explode with color for maybe just a week or two each year, especially along Commonwealth Avenue where they line the townhomes up and down.
The room receives so much sun and the cafe curtains help diffuse the light. They also match the informality of the cozy space, while adding warmth, texture and a bit of privacy.
The mint colored fabric was an early experiment with indoor/outdoor fabrics, which double as kid-friendly for their extreme durability.
A simple solid walnut table top was fit to traditional cafe table legs.
The durable vinyl seat fabric ensures durability as well as pulling all the colors together.
Tell us in the comments what you think!
Did you like this post? Sign up to deliver directly to your inbox!
Like what you're reading? Stay in touch with monthly (or so) e-mails.