No room is completely styled without an essential symphony of pillows. It's a key opportunity to pull together all the colors and textures that the furnishings, curtains and wall color are built upon. Except it's hard to get right and of course it brings out our inner OCD.
The Basics
Starting from scratch, I find that the perfect formula is 50% / 50% goose down and feather with a hidden enclosed zipper. If we're talking square, our standard pillows are 21 x 21″ which is just a wee bigger than normal and stands proudly so. We "size up" the pillows too, meaning a 22 x 22″ fill goes into a 21 x 21″ casing. No one wants a limp, deflated pillow.
There are many types of pillows, and as you'd expect, I have an opinion on all of them. Here's a few to get you familiar.
Functionality: The Perfect Size(s)
For the Bed …
A queen sized bed should have a pair of queen sized pillows 20 × 30″, same for king (20 × 36″). it provides the support you need for reading in bed and also visually fills the width necessary for the type of bed. From there, go standard for sleeping. Anything goes for decorative pillows, just don't dwarf the other pillows.
Shams are a nice addition as well, which can take over double duty for the queen and king pillows.
For the Sofa …
If you lie on the sofa, then a rectangular pillow will always be more comfortable. You can wrap your arms around it, get good support, lean on one side and it won't slip as easily. I think 18 x 26″ should do it, plus or minus.
For the occasional chair …
Depends on the chair. If it serves as a lumbar pillow, my rule of thumb is two thirds the back height and almost fill the width of the seat back. Otherwise, something that doesn't get in the way of actually sitting in the chair.
For the dog …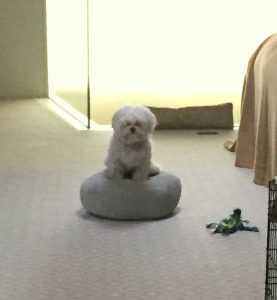 Any size will do.
Finding the Right Balance
Before we begin to delve, I will say that for a standard sofa, two square pillows is perfectly ok, but you will need to mind the scale depending on how high the arms are. I like about a third of the pillow's size to reach above the arm, which usually involves me eyeballing with my test stash. But if you don't have a pile of pillows to play with, grab an existing one and a tape measure and let loose.
I can't settle for just two unless I'm forced to. Like Doritos and Raisinets, it's best to go overboard, then scale back and give the rest away for stocking stuffers.
I'm also compelled to settle on an odd number. I drew up a quick sketch below to illustrate how eliminating the symmetry trap, the arrangement looks more natural. In fact, I started with the matching dark gray/black pillows which serve to anchor both sides and create visual lift and depth. Then I introduced a feature pillow with an exquisite Pierre Frey fabric, which launched the color palette.
The stripe pillow makes its guest appearance, attempts to distract almost forcibly but settles back in between the supporting, large cushion and soft, edgeless round. The gradual decrescendo stalls then lifts back up, balancing the colors, shapes and scale of the piece. Without pillows, it's an entirely different piece.


The Deliberate Stack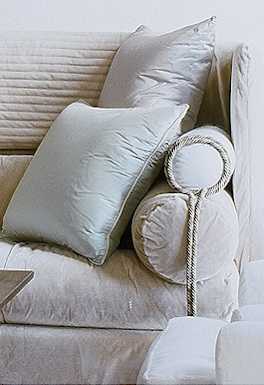 I know I'm introducing advanced techniques here, but bear with me. I personally love how the bolsters support the rising knife edge pillows. All of the colors are soft, there's no major embellishments, just a lot of good layering. And this provides a lot of support especially with a deep, high-back sofa.
The Karate Chop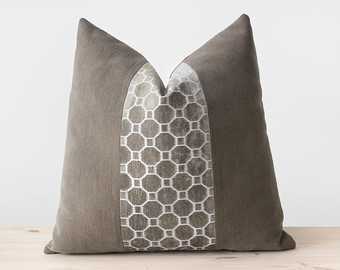 In a pinch, you have company coming and you need to fluff the pillows, a quick karate chop down the middle will always perk it right up. I'm not particularly a fan of this technique but it demonstrates that you at least care.
The Lonely Pillow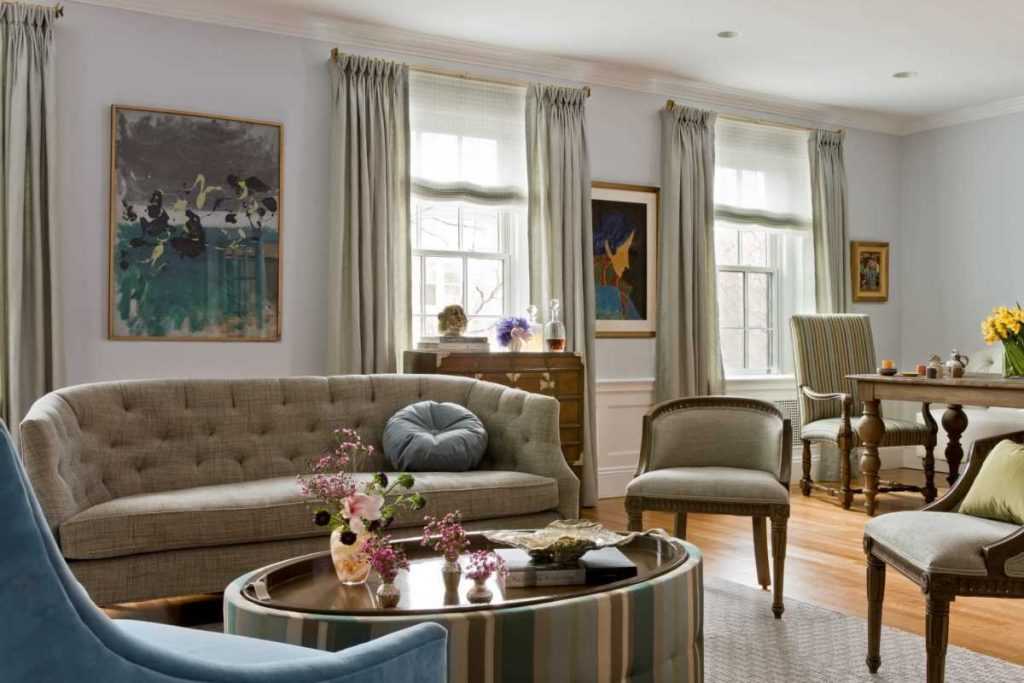 It always surprises me that one pillow can make such a statement. It was this shot a few years back that inspired me to continue the signature round box pillow with 1″ center button. I always try to include one in every project I do.
The Embellishments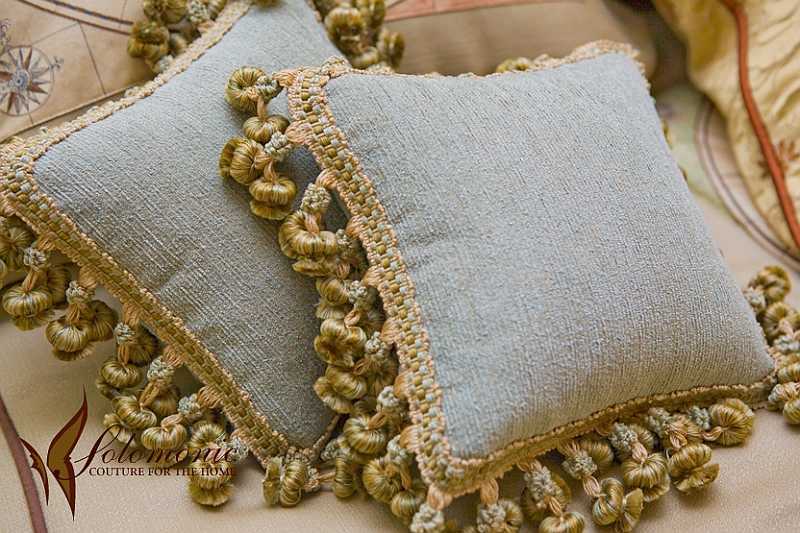 The sky's the limit really. You can do beaded fringe, tapes, multi-colored welts, brush. The key here is to make sense of the trims to tie together other colors in the room. Probably not a good idea though if you have a puppy that might mistake it for a chew toy.
Too Many Pillows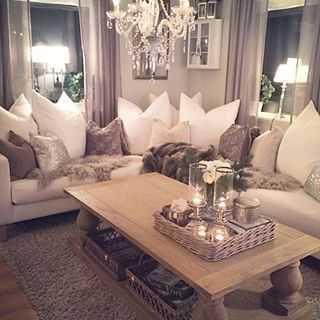 Now that I'm staring at this picture above, which I can't credit because I found it on the internet "too many pillows" search, it's not that bad. Very karate choppy, but it's certainly cozy and inviting. Though I'd toss the throws (!)
The Matchy Matchy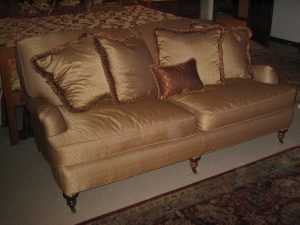 Resist! you can do better than that.
Just Right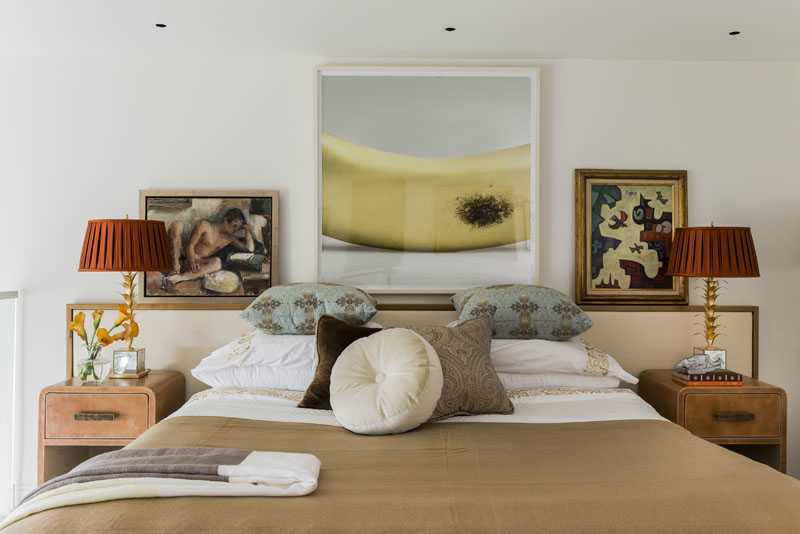 Like what you're reading? Stay in touch with monthly (or so) e-mails.