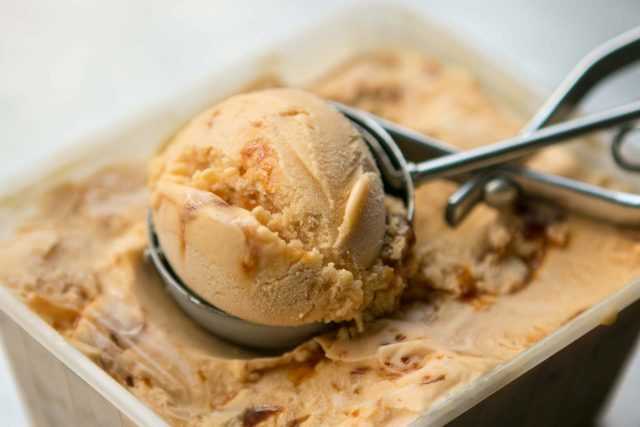 Since we entertain a lot, I'd say we're getting to be pro's at orchestrating dinner parties. We even keep a dinner party journal to log the history of who we entertained, what we made and and a few notes about how it turned out. Though no matter how many times we plan ahead, it's certainly takes a fair amount of effort and a bit of a marathon sprint as it all comes together.
Last week, we happened upon making a few time-tested recipes which at first seemed simple, but then I realized had a bit of a stump: three of the dishes needed the oven leading up to showtime.
We Only Have One Oven
Yes, I know, it's a burden, an inconvenience, maybe an embarrassment even, so it took a bit of my genius planning skills and some luck to realize we may have stumbled upon a perfectly synchronized serve.
If you'll be attempting this, you should verify that the following three pans will fit in your oven at once: A 9 x 13″ lasagna-style baking dish; a cast iron skillet; a medium sized Dutch oven.
Just short of scrapping one or two of the oven-dependent dishes, I read ahead through the recipes and realized the commonality of the 450°. So I drew up a timeline and it worked. Oh my god it worked. And here's how we did it.
For Dinner: Roasted Chicken with Baked Potatoes, Home Baked Bread, Green Arugula Salad and Salted Caramel Ice Cream for dessert.
Step 1 / The Day Before – Shop the Ingredients
There are some dishes you can make day-of, but I really like to think ahead especially with dessert. We run through the ingredients, verify what we need and what we have, and send Richard to the grocery (never I, more on my distaste for grocery stores another time).
Step 2 / The Night Before – Rise and Shine
The No-Knead Bread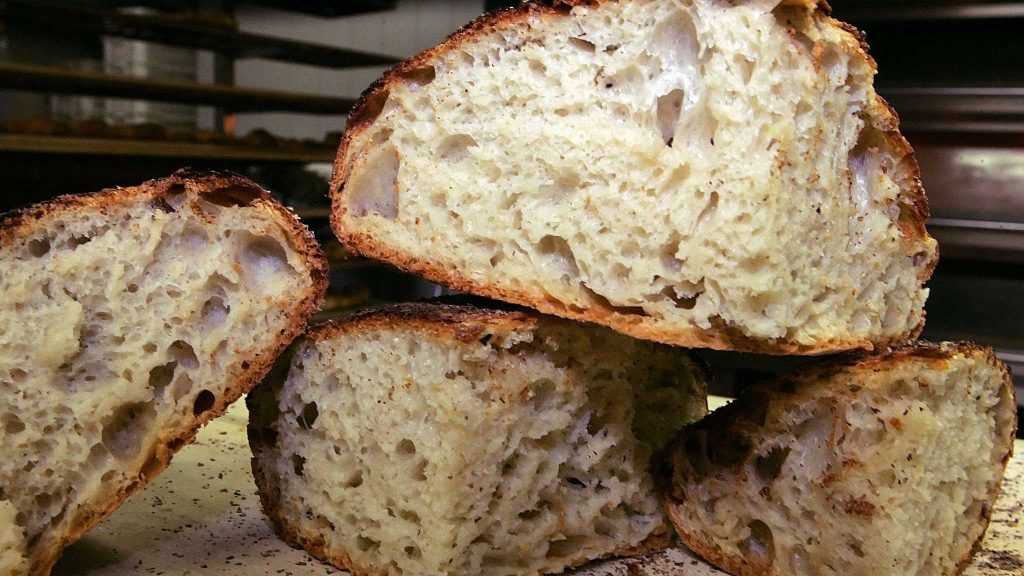 Courtesy Sullivan Street Baker's recipe via the New York Times, which is the simplest bread recipe you can make, just takes time. Get a large bowl and three minutes later, you'll be done.
Weigh your ingredients:
430 grams flour
1 gram (1 pkg) yeast
8 grams salt
345 grams water
Cornmeal
In a large bowl combine flour, yeast and salt. Add water, and stir with a spatula until blended; dough will be shaggy and sticky. Cover bowl with plastic wrap. Let dough rest at least 12 hours, preferably about 18, at warm room temperature, about 70 degrees.
Salted Caramel Ice Cream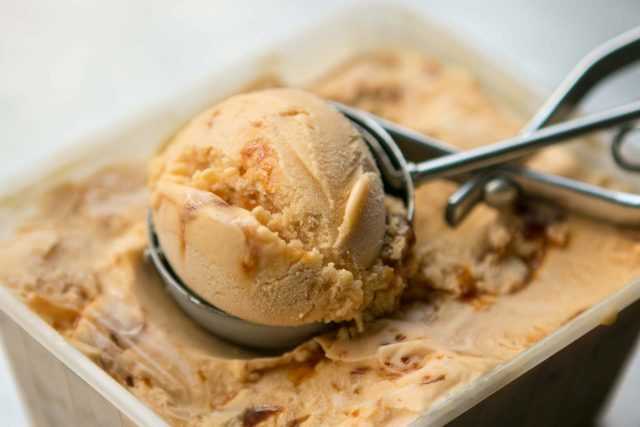 I get a head start on this recipe because of the very important step of chilling overnight.
1 cup and 1/4 cups sugar (divided)
1 1/4 cups and 1 cup heavy cream (divided)
1/2 teaspoon flaky sea salt such as Maldon
1/2 teaspoon pure vanilla extract
1 cup whole milk
3 large eggs
Heat 1 cup sugar in a dry 10-inch heavy skillet over medium-high heat, shaking pan to heat sugar evenly, until it starts to melt. Don't use a non-stick because you won't be able to tell when the sugar is ready.  Continue swirling skillet occasionally so sugar melts evenly, until there are no more dry crystals and it is dark amber. This may take about 10 minutes.
Grab your whisk. Add 1 1/4 cups cream (mixture will spatter a bit but it won't explode, don't worry) and cook, whisking constantly, until all of caramel has dissolved. Keep it on heat until it does. Transfer to a bowl and stir in sea salt and vanilla. Cool to room temperature, or about 15 minutes.
Meanwhile, bring milk, remaining cup cream, and remaining 1/4 cup sugar just to a boil in a small heavy saucepan, stirring occasionally. You will see steam and a hint of bubbles ready to surface.
Lightly whisk eggs in a medium bowl, then begin adding the hot milk mixture in a slow stream, whisking constantly. Careful not to rush, just slowly drizzle in half of the milk. Pour back into saucepan and cook over medium heat, stirring constantly with a wooden spoon, until custard coats back of spoon and registers 170°F on an instant-read thermometer (do not let boil). Pour custard through a fine-mesh sieve into a large bowl, then stir in cooled caramel.
Cover the surface with plastic wrap and chill custard, stirring occasionally, until very cold, 3 to 6 hours, or in this case, overnight.
Step 3 / Morning of, Finish the Ice Cream
When you're ready to churn the ice cream, take out a loaf pan and place it in the freezer. The ice cream won't melt as it hits this perfectly size container.
Follow the instructions for your ice cream maker, then transfer it to freeze  in the loaf pan. My only tip here is to not touch the ice cream while it churns, just let the machine do its work. If you properly chilled it, there will be no problem at all.
Step 4 / Make the Vinaigrette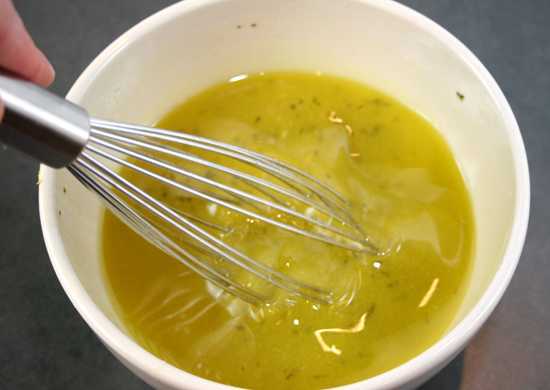 This can be made ahead. I always forget it and find myself scrambling at the end. The recipe is a hybrid technique I learned from Julia, where the zest and salt are ground together to release the wonderful lemon flavors.
1 lemon, zested
1 tsp kosher salt
olive oil (about 1 – 1 1/2 cups)
2 tsp sugar
2 tablespoons dijon mustard
Ground pepper to taste
If you have a mortar and pestle, find it and take it out, otherwise a small bowl and wooden spoon is fine for this.
Rough up the salt and lemon together for about 30 seconds, until the lemon oils have been released into the salt. Transfer to a medium large bowl.
Add the juice of 1 lemon and drizzle slowly the olive oil, emulsifying the mixture with your whisk until desired texture.
Add the sugar, dijon mustard, and ground pepper. I store it in a condiment squeeze bottle until ready.
You're Done Until 5:00pm.
The rest here is still sort of a sprint to the finish, but none of the steps are terribly complicated.
Step 5 / Ready, Set, Go
Dinner will be served at 8:40pm.
5:00pm
Take out one stick of butter from the refrigerator.
The bread dough is ready when its surface is dotted with bubbles. Use a spatula dusted with flour, gently remove the sticky dough onto a lightly floured work surface; sprinkle it with a little more flour and fold it over on itself once or twice. Cover loosely with plastic wrap and let rest about 15 minutes.
5:15pm:
Using just enough flour to keep dough from sticking to work surface or to your fingers, gently and quickly shape dough into a ball, using a bench scraper. Generously coat a cotton towel (not terry cloth) with cornmeal; put dough seam side down on towel and dust with more cornmeal. Fold over the towel and let rise for about 2 hours. When it is ready, dough will be more than double in size and will not readily spring back when poked with a finger.
Use the time here to prepare the baking potatoes.
Salt-Baked Potatoes with Roasted Garlic and Rosemary Butter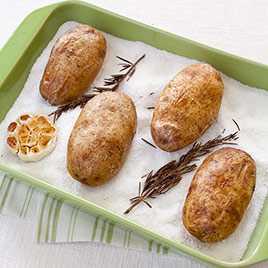 This recipe is right from Cook's Illustrated. It's not a typo – the 2 1/2 cup salt bed absorbs and releases the moisture from the potatoes and they are the best baked potatoes I've ever had.
2 1/2 cups plus 1/8 teaspoon Kosher salt
4 russet potatoes , scrubbed and dried
2 sprigs plus 1/4 teaspoon minced fresh rosemary
1 whole head garlic, outer papery skin removed and top quarter of head cut off and discarded
4 teaspoons olive oil
4 tablespoons unsalted butter, softened
Spread 2 1/2 cups salt in even layer in 13 by 9-inch baking dish. Gently nestle potatoes in salt, broad side down, leaving space between potatoes. Add rosemary sprigs and garlic, cut side up, to baking dish. Cover baking dish with foil and crimp edges to tightly seal.
6:30pm:
Place the empty, covered Dutch oven in the oven.
Pre-heat the oven 450°.
Prepare the chicken.
Skillet Roasted Lemon Chicken
This one is thanks to Ina Garten in her new book Cooking For Jeffrey. I'm a huge chicken fan and this recipe is so easy and so delicious. I'd recommend getting the freshest chicken you can and have the butcher deal with the butterflying.
Marinade:
2 tsp fresh thyme leaves
1 tsp whole fennel seeds
1 tb salt
1 tsp pepper
1/3 cup olive oil
For the skillet:
1 lemon
1 Yellow onion
2 cloves thinly sliced garlic
1 whole chicken, butterflied and back removed so it lays flat.
1/2 cup white wine
In a spice grinder or regular blender, grind up the thyme, fennel, salt and pepper.
Whisk in 1/3 cup olive oil.
Set aside the marinade.
Cut up one whole lemon in thick slices first cut in half lengthwise. Add to cast iron skillet in one layer. Add sliced yellow onion and garlic.
Thoroughly dry the chicken with paper towels.
7:00pm
Put the potatoes in the oven.
7:30pm:
Add butterfly chicken skin side down to the skillet. Brush half marinade on underside of chicken. Turn chicken over and dry the top skin with paper towel. Brush rest of chicken with oil.
Back to the bread, carefully remove the Dutch oven from oven. Slide your hand under towel and turn dough over into pot, seam side up; it may look like a mess, but that is O.K. Shake pan once or twice if dough is unevenly distributed; it will straighten out as it bakes. Cover the pot.
Place the chicken in the oven.
8:00pm
Uncover the bread, it will bake another 15 minutes.
Remove the chicken, pour the white wine around the chicken (not over it), return to oven for 15 minutes.
8:15pm
Remove the chicken, squeeze some lemon juice all over, and rest for 15 minutes, tented with foil.
Uncover the baked potatoes, brush with olive oil, remove the garlic and leave to bake another 15 minutes.
Remove the bread from the oven.
Meanwhile, once garlic is cool enough to handle, squeeze root end until cloves slip out of their skins. Using fork, mash garlic, butter, 1/8 teaspoon kosher salt (or pinch table salt) and minced rosemary to smooth paste.
Increase oven temperature to 500°.
Serve the salad: Arugula, cherry tomatoes and shaved parmesan is just perfect with this and the vinaigrette.
8:30-8:40pm
Take out potatoes from the oven.
Remove any clumped salt from potatoes (holding with kitchen towel if necessary), split lengthwise, top with portion of butter, and serve immediately.
Dinner is Served!
Like what you're reading? Stay in touch with monthly (or so) e-mails.