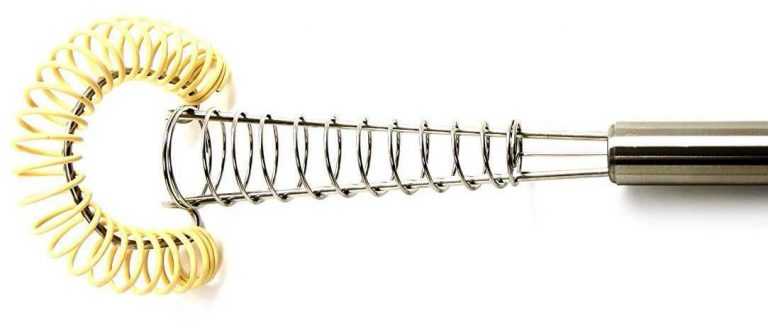 I'm a bit of a product junkie. I love tools that do the job efficiently and make life more satisfying in the process. Whether it's a kitchen gadget  I can't live without or an appliance I find excuses to use, it brings me pure joy to know the one I'm using is best in category — to me at least.
My friend Jennifer and I have a long-standing, inside joke we call "No Lies". We have the same affection for "things that actually work" because in a world of dizzying options, many simply fall short.
And we laugh about opening a store called No Lies — stocked with one product from every category that is simply the best. No Lies, no options, no alternatives, because the ones we curated are the best. Period.
The dilemma then becomes the selections because there are so many options to choose from in every category. Well, I thought I'd begin with my list. Maybe random, maybe useful, but I'll try to revisit this topic over time. And these are in no particular order or grouping.
Jiffy Garment Steamer
I'm a big fan of ironing. It brings a sense of order to a world of wrinkled chaos. And I dream one day of having the room for a proper mangle rotary iron where I can sit comfortable and blissfully roll-press through all the table linens, duvet and sheets at the speed of light.
A traditional iron is wonderful, but this steamer brings it to the next level. This is the second Jiffy steamer I've owned. The first one didn't have a removable tank and made refilling a real hassle. The J-2000M Jiffy Garment Steamer with Metal Steam Head get a lot of use in our household, release wrinkles faster than you can say steam. I've used it on curtains, all sorts of bedding and pillows, traditional shirts, sweaters, suits, jackets, pants, you name it.
Just be very careful, the steam is hot!
Traditional Iron
Sometimes you need to get that very crisp, starched look on collars, cuffs. In that case, my recommendation for this would be the Rowenta DW9081 for its long lasting durability, weight and steam power.
The plate is very smooth and the pointed tip is very useful for navigating around buttons. It's rather easy to fill with a wide enough container to avoid splashing water. And with a simple squeeze of the index finger, it lets out just enough steam to easily release wrinkles without spitting wet spots.
Pause to discuss Time — Quality — Cost
Notice I'm not discussing the prices here. Let's assume, based on the trinity of overarching product (and project) goals, you have to sacrifice the cost to serve the others. In other words, you can only aspire for the intersections at orange, purple or green: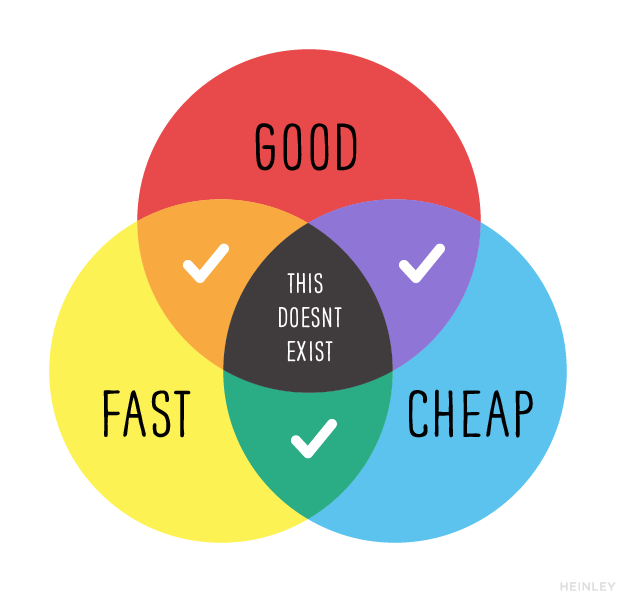 So b'bye pricing. In case you were wondering, when it comes to Platemark projects, orange is our sweet spot, hands down.
Blender
I intentionally pointed that out here because I never thought I'd spend $500 on a blender, but this thing is life-changing. I actually look forward to using it, thinking of reasons to whip this red machine out. The Vitamix Professional Series 300 does the job so well — from the smoothest of smoothies, soup purees, frozen cocktails or— and this is so cool — crushed ice in seconds.
It's loud, but who cares? It's a blending jet engine, no lies.
Clinometer App
So does anyone (but me) carry around a level? We hang a lot of artwork and at times I obsessively go around seeing if things are level. Well, did you know there's an app for that?
Head over to the Apple store and get the Clinometer app, At $2.99 it doesn't come cheap, but nothing good ever did!
And what's really cool is it works on all axes – X, Y and Z, so you can lay it flat on a desk, for instance, to see if the surface is level.
Thermapen Thermometer
Since we're on the topic of measurements and scales, let's cover a few more here. Accuracy counts to me and that goes especially for baking and cooking.
The Thermapen Mk4 by Thermoworks is so fun to use and nails it every time. I bring it with me when traveling just in case I'll be cooking some meat or melting sugar or whipping together a crème anglaise base for ice cream. I can't believe how much use I get out of this.
Laser Measure
And what a designer do with out a laser (or tape) measure? You can really go nuts with the features of these, but for our purposes, we're good for linear distances when taking a tape is just too difficult. Think ceiling heights, awkward lengths, full room measurements. It stays in my bag all the time.
Go get the Bosch GLM 40 and you'll be verifying measurements all over the house!
Scale
So I've just gotten into weighing my baking ingredients. But admittedly, we use this scale more for making cocktails … It has settings for milliliters, ounces, grams.
Place the cocktail shaker right on it and hit tare between ingredients. I equate a "part" with a fluid ounce, as most drinks are about 4 oz. Enjoy!
Miele
It feels strange to use an inferior product after getting used to the features of great German engineering like we see here. As soon as you turn it on, the slow whooshing begins and the suction releases particles you didn't know you had buried deep in your carpets and upholstery.
The Miele Classic C1 Titan shouldn't be a surprise to anyone in the know that it's among the best. I haven't tested each one, but my experience is that even the mid entry level models are infinitely more reliable than anything else you've seen.
If you're team Dyson, I'm not convinced. I prefer the bags and the ergonomics of the handle, telescoping tube and various attachments, especially the extended crevice one.
Sonos
If you haven't heard of Sonos, you should probably read up on how it's changed the way we listen to music in our homes and offices.
In short, it's a wireless Home Sound System which lets you stream via WiFi whatever sound of music (TV, or movies) you like, from your phone, computer, or streaming services like Apple Music, Pandora or Spotify to name a few.
What I love about it is that the speakers talk to each other and create a network with a simple touch of a button. This means if you want to buy another speaker for, say, a guest bedroom, you plug it in for power, then connect it to the system via your WiFi network. No other wiring is necessary.
And best of all, you can create zones of music to play (or not play) in certain rooms.
Stapler
Sometimes it's the simple things in life, like stapling paper. You see, I don't want to lift a finger when I staple (!) and this one-touch "Reduced Effort" desktop stapler ensures that I don't.
I bought two!
Dog Bed
Any pet lovers out there? This one seemed like a crap shoot given we technically wouldn't know if either of our dogs would want to snuggle up to it, but it worked!
The virtue of the OrthoComfort Deep Dish Cuddler is that with its high walls  is designed to ease joints and allow your pet feel safe and secure. The higher back wall provides extra support and relieves pressure on joints, and its front and side walls are carved lower providing an ideal headrest
And it's machine washable.
Whisk
I call this simply the Magic Whisk. It's the best whisk in the world. It works almost too well. Whipped cream? No problem. Emulsifying a vinaigrette? Child's play.
Named the Norpro 2351 Saucinator, it cleans up in a snap and its flexible nature really gets into all the areas of a bowl, unlike traditional whisks.
Lampe Berger
This is the Cadillac of room fragrance, and maybe one of the oldest commercial ones. I discovered Lampe Berger at a shop in Greenwich Village maybe 17 years ago, when entering the shop was knocked over (in a good way) by the strong, yet clean fragrance that seemed to permeate every molecule of the space.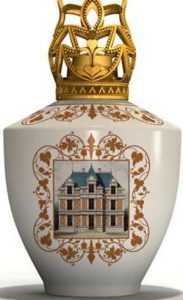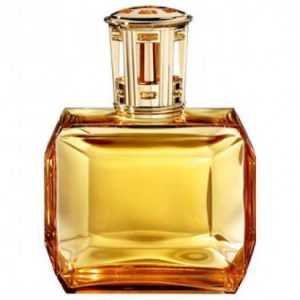 Anyway, I was sold, after the story was told to me. The lamps, which are available in a variety of styles, sizes and limited edition art pieces, don't sell themselves. There's a process to learning how to use it.
The liquid fragrance is alcohol-based. The wicking system was invented by Maurice Berger, a pharmaceutical dispenser. It's built on a system of diffusion by catalysis, which purifies the air in enclosed rooms.
It's definitely a process for lighting the wick, blowing it out and letting it do its thing, but the results are luxurious.
Jewelry Cleaner
Don't even think twice about this one. Ok, I don't have a lot of jewelry, but when I gave this baby a whirl for the first time, I couldn't believe how clean it got my ring, but also what was left in the water!
The Magnasonic Professional Ultrasonic Polishing Jewelry Cleaner Machine claims to not only tackle jewelry, but also sunglasses, watches, combs, coins, razors or any other tool part that can be immersed in water.
I keep meaning to host a Jewelry Cleaning party, soon.
Sweater Shaver
Ok, I know this one sounds gimmicky and late-night commercially but it works and it's very satisfying to use, especially come wintertime.
The pills vanish away with the pill and lint remover by Just-F-Care and I bought this one because it recharges. I'm not sure if there's varying qualities rather than features like this. After just a few minutes of "shaving", the cannister is filled with the pesky fur and lint that's hanging on to your cashmere sweaters… no more!
StayblCam
And finally, this cool gadget. I think my intensions for making videos was front and center when I made this late-night purchase, but hey, who cares, one day it'll get some good use.
If you shoot (or intend to shoot) videos with your iPhone and want them to come out looking more professional and less, well, shakey, then this is what you need. It takes a few tries to master the technique for balancing / calibrating the phone on the stick, but once that's done, you're good to go!
Like what you're reading? Stay in touch with monthly (or so) e-mails.